Many shows have been cancelled much too early or have not been given the proper attention they deserve. Although that list is unfortunately lengthy, it is time to recognize a select few that still tug at my heartstrings each and every day due to their unappreciated natures.
    1. The League
Year: 2009 –
Time: Currently five seasons, fifty-eight episodes, twenty-three minutes per episode
Photo credits: whatculture.com
In regards to television series' that are currently running, The League is easily the most underrated one. First airing in late October of 2009 on the FX network, The League had nearly one million viewers. In comparison to Modern Family's pilot of 12.6 million, it's a rather petite number. Nevertheless, five seasons in, The League is my moderate twenty-two minutes of daily physical activity. You're thinking cardio? Nope, I'm not on the treadmill – I'm actually strengthening my core. Via laughter. Yes. I laugh that much. How could you not, though?
The League, although based on the lives of five adult males and one woman all competing in one rather competitive fantasy football league, is not all about the league. The relationships within the show are constantly being developed while none of the characters really seem to change. Not that they really need to, anyway. The five main guys on the show, Pete, Kevin, Rodney (except everybody calls him Ruxin), Andre and Taco (except, actually, nope – it's just Taco) are, in reality, comedians. The show as a whole is only half-scripted. Are you hearing me? This means that half of the time it's all improvisational theatre, basically saying that they're making everything up as they go along. If you're not impressed yet, well, I don't think we could be friends.
The League has a solid fan base that would to absolutely anything and everything to save this show if, God forbid, it were to be cancelled. This amazingly witty and unconventional television series had a viewership of half a million last season (Season 5) which shocks me. Only 500,000 people tune in to five guys making fun of one another in the subtlest ways possible among a variety of other hilarious events? If given a chance, I feel as though The League could be added to your favorite comedy list, if not right on top, like on mine. I should warn you, though. The genre of The League is often referred to as "guy humour," which obviously plays into a lot of the content on the show. Here is my advice to you: Watch the first episode and fall in love. If you're still on edge, complete the first season of only six episodes, then see how you feel. If you're not a fan of the first episode, don't bother. It's very much a hate or love show, I have to say.
Final recommendation: At least watch episode one! Give this freaking hilarious show a shot.
    2. The Firm
Year: 2012
Time: One season, twenty-two episodes, forty-three minutes per episode
Photo credits: emcblue.com
Look to the flipside of The League: The Firm is a legal thriller which will have you on the edge of your seat in seconds. Especially if you're sitting on an awkward chair. You might even be biting your nails at the end of this description! The Firm is based off of Josh Grisham's 1991 novel, as was the 1993 film starring Tom Cruise. The TV show, unlike the novel and film, is ten years post those events. Personally, I didn't know of the backstory, but it could definitely be useful for you. In a couple quick lines, here goes nothing: Lawyer Mitchell McDeere aids in the destruction of a law firm associated with a gang in Chicago, causing the convictions of several mob leaders and followers. McDeere is then sent to Witness Protection until the death of the mob boss. The TV series follows this years later when the "mob life" is deemed over. McDeere has a wife and daughter and is in the process of starting his own law firm with his brother all in a new town. Financially, McDeere and company aren't doing too well, so when a sketchy law firm pursues his interest, he bites. The recent TV rendition of Grisham's novel centers around shady things happening in McDeere's life. For example, he feels as though he is always being watched, his boss acts pretty shadily and there may or may not be a conspiracy within the murder being investigated throughout the twenty-two episodes of the first season. To add to this insanity, on the other side of town, the mob life that McDeere once lived never truly did escape him.
Although this show may seem like a typical all-the-world against one man show, it really is so much more than just that. It truly dipped into my head and my heart and had me waiting week after week for what was really going on. Just when you think you've figured it out, well, let's just say you haven't. The possibilities are all there with The Firm, and I must say that I love that about the show. It is truly a shame that it was not granted a second season.
Final recommendation: If you're a conspiracy junkie, how have you not watched this yet!? Also, if you're into really hot lawyers, Josh Lucas will not disappoint.
    3. Undeclared
Year: 2001 – 2003
Time: One season, seventeen episodes, twenty-one minutes per episode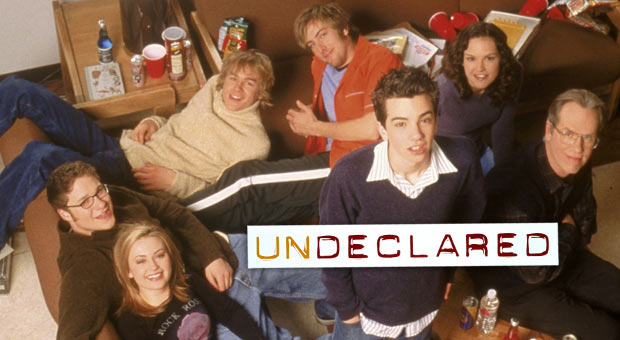 Photo credits: amcnetworks.com
I don't know about you, but some of my favourite actors/people are, in no particular order, Seth Rogen, and uh… Well, yep, that's about it. Rogen is such a fascinating dork with such high likability. I truly believe that everything he has been in even remotely has been amazing. One of my favourite acting roles he's had is definitely as Ron Garner is Judd Apatow's 2002 series, Undeclared. Rogen plays good friend to Jay Baruchel's character Steven Karp. Karp and his crew, comprised of Carla Gallo, Charlie Hunnam, Monica Keena, Timm Sharp and Rogen, are all entering their first year at the University of Northeastern California. Steven, despite living in the area, enters the "true" university life by moving on campus. Unfortunately, as his parents divorce, his lonely father is often found on campus, fraternizing with his son's friends. One of my favourite parts about this show is the amount of guests starts that have been featured.
Considering this is not necessarily a continuation of Apatow's 1999 Freaks and Geeks but definitely has some similarities, a few actors reappeared, Jason Segel, for example. He comes back to Undeclared as an obsessive and dramatic, yet somewhat loveable boyfriend to one confused Lizzie (Gallo). Another unforgettable character, and definitely one of my favourites, is Samm Levine, playing the role of Books. Thinking back to Freaks and Geeks, when he was an adorable nerd, we see this shine through his new character as leader of a fraternity. Despite his pranks and his so-called coolness, Books, already a super dorky name, will forever be Neal Schweiber, one of the best nerds of all time. A whole bunch of other actors and actresses have appeared on Undeclared: Adam Sandler, Ben Stiller, Will Ferrell, Simon Helberg, Busy Phillips (of Freaks and Geeks), Amy Poehler, Jenna Fischer and Kevin Hart.
What makes this show so unbelievably great is everything. Its humour, the connections and its events all fit in so snugly together, it's as though the actors on the show were mirrors of their characters. Well, I guess because it kind of happened like that; Here's a fun fact: The pilot was written after the actors on the show had been decided. In fact, it was heavily improvised! During the season we get to watch these characters grow and become great people. Although that seems cliché, the humour that is embedded into every episode makes each second worthwhile.
Final recommendation: If you're a fan of [watching] awkward university experiences, Amy Poehler, Seth Rogen, Jay Baruchel, Freaks and Geeks or quirky humour, you simply must check this show out.
    4. Allen Gregory
Year: 2011
Time: One season, seven episodes, twenty-two minutes per episode
Photo credits: blogspot.com
"What are you talking about?" will now be interpreted in two different ways: either as a hater or as a questioner. For the latter, I will begin: Allen Gregory is an animated comedy written and starred by Jonah Hill. Firstly, I must say that I admire Hill. I will now begin my totally unbiased opinion and description of this show. So, Allen Gregory is a seven year-old genius who attempts to enter into the "normal life" by attending an average elementary school in an average town. This boy, accompanied by his gay parents and imported adopted sister, Julie, ultimately try not to pull each other's heads off. Despite the awkwardness that is his two fathers, the cruelty towards Julie and Allen G's eccentric and lavish personality, they all come together as one not so normal family.
Each and every character on this show has a distinctiveness about them that really makes them special. Despite only seven episodes airing in its first and final season, I can honestly say that I learned about all the characters a fair amount. Knowing the characters individually allows me to really understand certain relationships and particular group dynamics. One of my favourite relationships is that between Allen Gregory and Joel Zadak (voiced by Jake Johnson), a super radical kid in his class. The way Allen Gregory attempts to enter Zadak's life is ridiculously great to watch. The way in which he praises, protects and shields him really shows Allen Gregory's "kind" side and shows that he cares about someone other than himself, even if mostly superficially. Another great relationship denoting Allen Gregory's love for not only himself, is the relationship between him and Principal Gottlieb. The dreams Allen G has about her, the way he makes her feel and the words he associates to her are both lovely and frightening.
The type of humor demonstrated on this show is extremely interesting. Although crude and improper regarding certain norms and mannerisms, I think it really adds to the difference that the show holds. Unlike Family Guy or American Dad, this show has more to offer than just simple humour – it really does make you think. Some of the jokes are so subtle that once you realize what has just been said, you'll just pack on those abs.
Final recommendation: It's very much a hit or miss, but because the humour is so odd and different, I believe everyone should give the first couple episodes a shot.
The League, The Firm, Undeclared and Allen Gregory are only a few television series that the world has been graced with. To think that they are/were seen with such little audience, makes me sad. These four shows are all wonderful in their own ways.
Have you ever fallen in love with a show that quickly saw its demise? Are there any shows you are currently watching that have not been given enough credit?
Featured Image by Flickr.